The activity report feature was designed for standing guards at a post that requires one report to be made of their duties specific to the property they are working, and then submitting them at the end of their shift to the property management instantly. Since this feature also allows an officer to create, save and update multiple reports at the same time, this feature can also be used by patrol officers that patrol multiple properties during one shift. The activity report feature was also designed for speed of use and simplicity for your officers as you will see in the following explanation of use. First, an officer would select "activity report" from the main screen by clicking on the icon shown. In screenshot 1 shown below, the officer would select an account they wish to create a report for.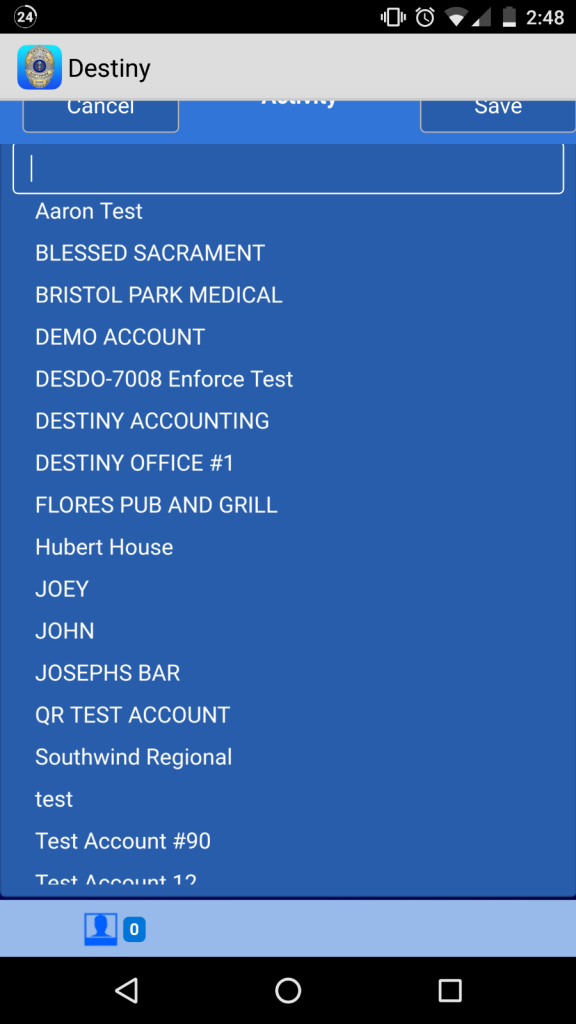 Screenshot 1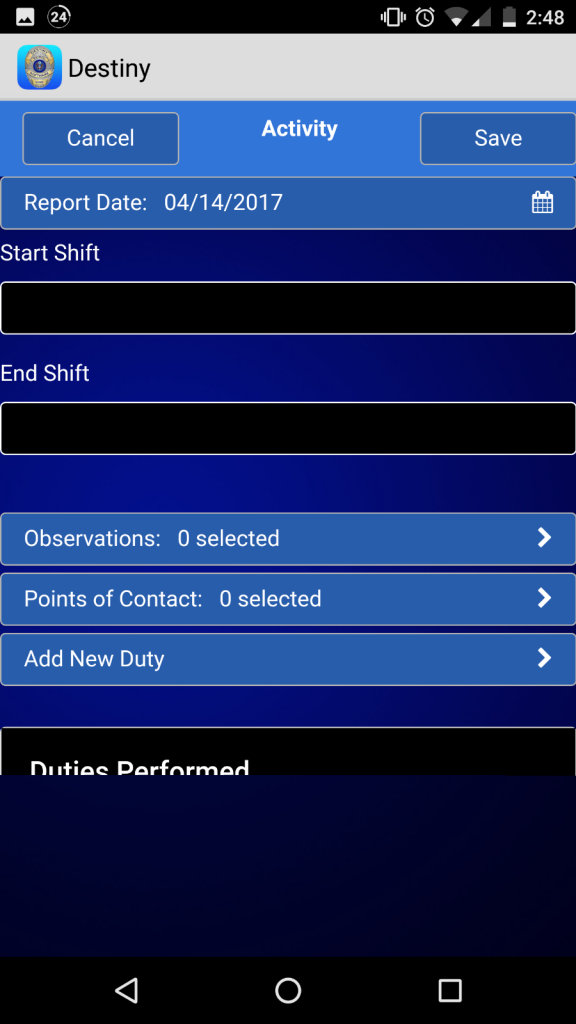 Screenshot 2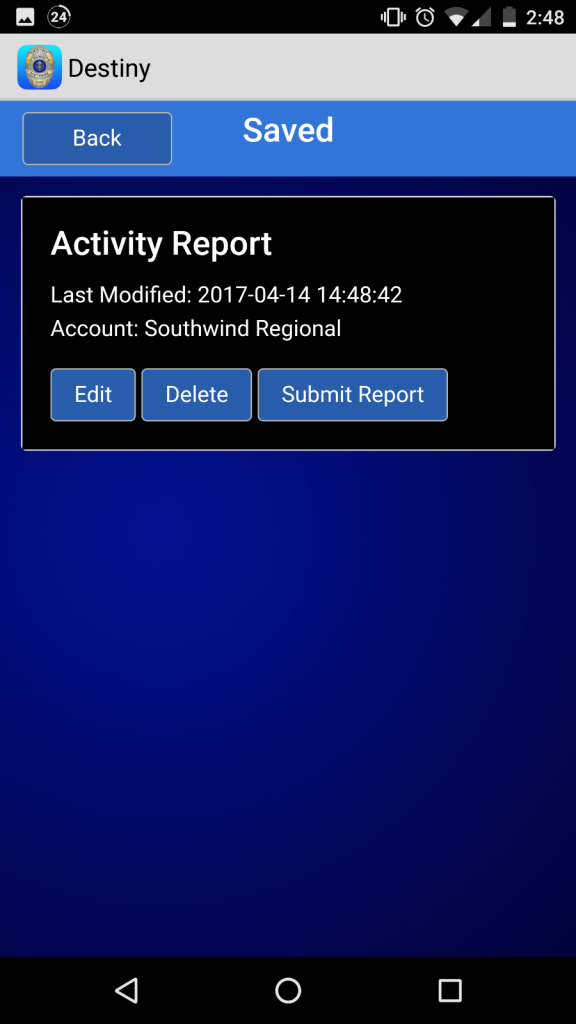 Screenshot 3
Once the activity report screen (screenshot 2) appears on the device, the officer would enter in the date of the report, start and end of their shift. Next the officer would push the "observations" button, and / or the "points of contact" button which would open a popup screen where the officer could choose from a list of observations and activities, or contacts that he has encountered.
Next the officer would click on the "activity time" button to enter the time of the activity that he is performing at that moment, click on the "activities" button to add an activity from a popup list of options, select the activity, and then save the newly entered information. (screenshot 3)
If an officer needed to add any details to the activity from the drop down list, they could text additional information in the comments box just below the activities button. Every entry would be created with a time stamp of entry, activity from the drop down list of choices and any comments that were entered.
As mentioned above, the activity report can also be used for patrol, and the officer can enter as many reports as needed, then when updating the report, from the main activity screen select a report to update and add more information throughout their shift. For a guard or patrol officer to submit a report, all they have to do is click the blue icon for the desired report to be submitted until a window pops up where the officer would select the desired action. As each report is successfully submitted, a confirmation window will popup stating successful submission and that particular report will be removed from the list of open reports.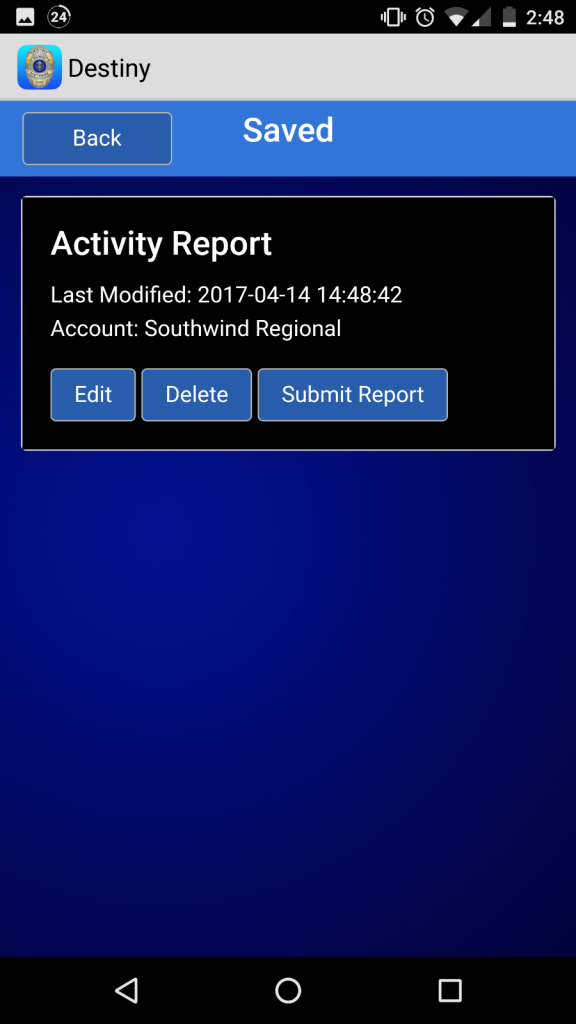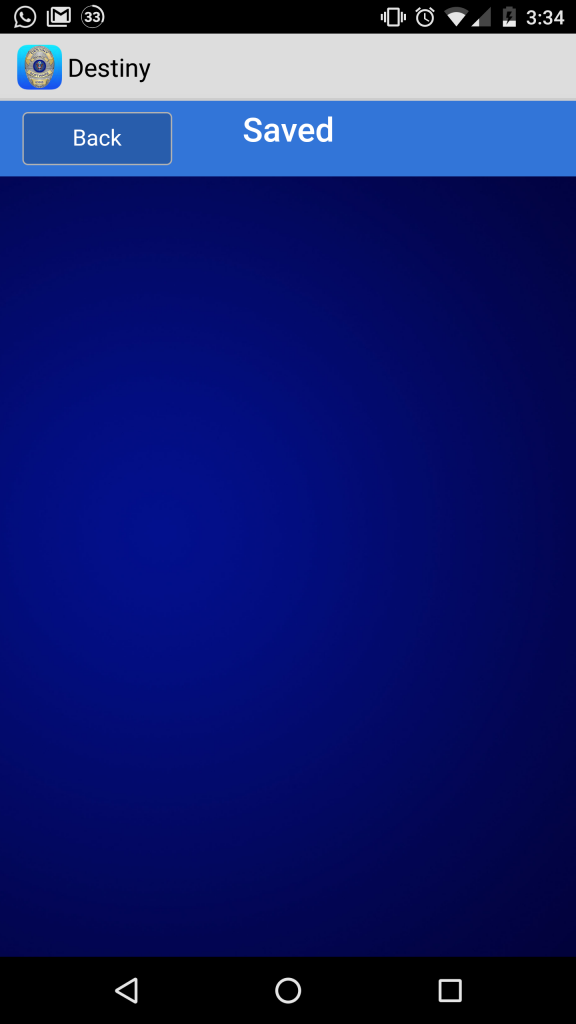 All of our features are sent in real time as officers submit the various forms, within seconds your client will be able to view their reports.